Educational Outreach
For the third straight year we partnered with Mt. Healthy City Schools to work with their third-grade classes. We visited the classes twice during the school year, and in May they came to see our museum. Thanks to a generous grant from the W.E. Smith Family Charitable Trust, we were able to pay for busses for the students from North Elementary to come on their field trips. The students from South were able to walk from their school. The kids seemed to really enjoy their visits. Thanks to all of the members who came and helped out.
Yard Sale
A big Thank You to everyone who donated items, helped at the sale, or just shopped. This is one of two big fundraisers we do each year (the other - our Ice Cream Social - is coming up in September). These events keep our organization going, and we appreciate everyone's assistance.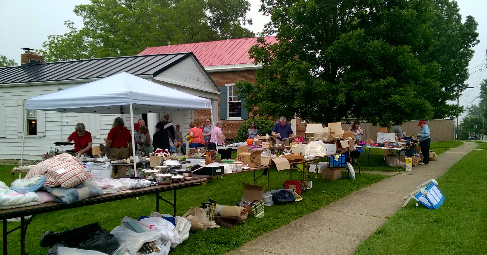 Bicentennial Meet &amp Greet
We participated in the Bicentennial Meet &amp Greet at the High School on March 18. The Historical Society presented a display of pictures and artifacts from the 1967 Sesquicentennial, and members Dottie Betsch and Karen Arnett made displays on other aspects of Mt. Healthy history.