Bicentennial Meet &amp Greet
We participated in the Bicentennial Meet &amp Greet at the High School on March 18. The Historical Society presented a display of pictures and artifacts from the 1967 Sesquicentennial, and members Dottie Betsch and Karen Arnett made displays on other aspects of Mt. Healthy history.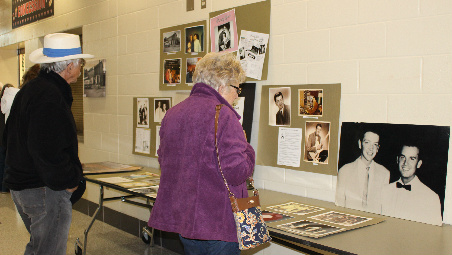 Christmas Open House
Our Christmas open house was December 4. We had Santa and Mrs. Clause, singers, cookies, punch, and a good crowd of visitors at the museum. Children could also visit the tollhouse to do crafts. It was a great event.
Open House for Public Employees
We held an open house for public employees on October 25. All employees of the city and the administrators from the school district were invited to take a look around our museum and enjoy some refreshments.
Ice Cream Social
Our annual Ice Cream Social was nearly rained out this year. It was set to begin at 4:00 as part of Celebrate Mt. Healthy on Saturday, September 10, but thunderstorms hit right on cue at 4, raining out Celebrate and sending attendees into the community room to dry off. Those who came got to enjoy delicious UDF ice cream and yummy baked goods. Although Celebrate was eventually cancelled, we at least had a nice crowd for a while. Thank you to everyone who helped, donated baked goods, and came to eat. And a big thank-you once again to United Dairy farmers for donating the ice cream.
Third-Grade Program
This year we visited the third-grade classes at South Elementary School twice. We showed the students photos of old Mt. Healthy, and took some old toys and other artifacts for them to see. In May, the classes walked from their school to come visit our museum. They really enjoyed looking around and asking questions.