Our Ice Cream Social was a hit!
On September 9, as part of Celebrate Mt. Healthy, we held our annual Ice Cream Social fundraiser. The weather was perfect, and a good crowd attended. Thank you to everyone who came, volunteered, or provided baked goods.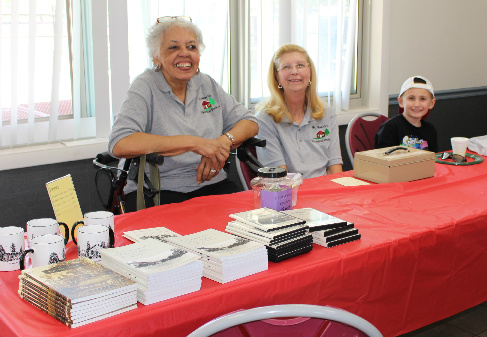 Dedication of a new historical marker
After much research and paperwork, Leland Hite and Robert T. Rhode unveiled the new historical marker commemorating the invention of the first reaper by Obed Hussey in 1835 in Springfield Township. The ceremony took place at the end of the old covered bridge, with a large crowd in attendance.
Educational Outreach
For the third straight year we partnered with Mt. Healthy City Schools to work with their third-grade classes. We visited the classes twice during the school year, and in May they came to see our museum. Thanks to a generous grant from the W.E. Smith Family Charitable Trust, we were able to pay for busses for the students from North Elementary to come on their field trips. The students from South were able to walk from their school. The kids seemed to really enjoy their visits. Thanks to all of the members who came and helped out.